non invasive fat reduction and body contouring
Double Chin, bra fat, love handles, inner thighs, lower back, bingo wings are just some of the areas we can get stubborn fat pockers that we want to blast away to give us the definition we want.
This is not a weight loss treatment.
A course of treatments is recommended, with a minimum of 3 treatments. How frequently you can have the treatments depends on the product best suited to you and the area being treated. Smaller areas may see a benefit sooner than larger areas.
Fat dissolving (aka Aqualysis or lipolysis) is to target stubborn (visceral) fat that may be be resistant to exercise, and is not a weight loss treatment. It is recommended alongside a healthy diet and exercise and lots of water! Hydration plays a big part in the treatment being effective. Fat dissolving can help to contour certain areas and achieve shaping with minimal downtime.

Products available are Aqualyx, Lemon Bottle, Lipo Lax + and many more. 
Treatment plans vary depending on your area of concern and if this is a maintenance treatment or an initial treatment.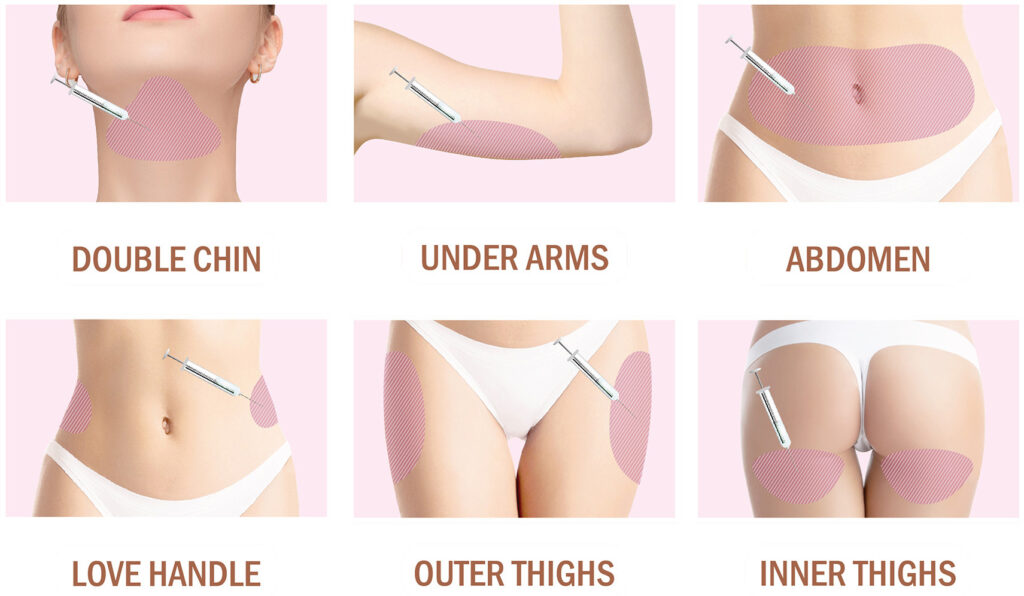 Areas that can be treated
Each of the areas highlighted are can be treated. Book a consultation to see if you're suitable.
Preparing for Fat Dissolving
For best results, a minimum of 3 treatments are required 1-4 weeks apart (product dependent).
Results may not be visible immediately and there is no guarantee of a significant visible improvement.
Administration of Fat dissolving is via injection – and may have to be approached with caution in those with Trypanophobia. This injection is very superficial (in the higher layers of the skin and is not injected deep). No topical anaesthetic is used.
There may be swelling and redness following the procedure – but can be reduced with massage or radiofrequency.
All products used are suitable for vegans and are cruelty free. Each syringe and needle used is single use and is disposed off after each treatment.
The highest standards of hygiene are maintained and observed in the treatment room.
The actual injecting time is no more than 10 mins, with the remaining appointment time begin for consultation and aftercare discussion.
WHAT SHOULD I DO BEFORE MY APPOINTMENT?
CONTRAINDICATIONS FOR Fat dissoving:
You will not be suitable for the treatment if you have any of the below:
14 days before or after the COVID-19 vaccine
BMI > 30 (Obese)
Haemophilia
Diabetic

Auto-immune Conditions

Hepatitis, HIV / AIDS

Problems with Skin Healing / Bleeding Disorders / Take Warfarin or Heparin
The treatment is not suitable for those under 18, or are pregnant or breastfeeding.
Immediately after treatment (up to 12 hours)
massage the area regularly and firmly to encourage lymphatic drainage​
USE AN ICE PACK FOR 15 MINS TO REDUCE SWELLING IF REQUIRED

Avoid aspirin or anti-inflammatory medication for 48 hours
keep compression on the area to reduce swelling and water retention
Avoid late night meals
eat a healthy light meal for next 12-24 hours, with low salt
First 7 days after treatment
Keep hydrated - drink plenty of water to encourage fat drainage
AVOID STRENUOUS EXERCISE, SWIMMING, SAUNA FOR 7 DAYS
massage the area regularly and firmly to encourage lymphatic drainage
Avoid extreme temperatures of hot or cold - avoid saunas, steam rooms, sun beds or sun exposure)