Safe • Powerful • Effective
Don't like the brows you have?
Have the colour faded to something you don't like? grey? red?
Not sure you want laser removal?
If you answered yes to any of the above, Saline removal might be the option for you.
This method is highly effective and commonly used within the initial stages of permanent cosmetics correctional work to lighten ill-placed, badly shaped, discoloured brows.
The natural removal process uses osmosis to exchange saline solution for the pigment in your skin. The healing process lifts the colour out and lightens any pigmentation you may have over a course of 30 minute removal sessions. We recommend at least 4 sessions for maximum removal.
Unlike laser removal, the process is suitable for all skin types and is not selective on the colour it removes and targets – so can target all pigment colour.
Emergency Removal is conducted within 48 hours after having microblading or micropigmentation.
Contact Farrah for a free consultation to understand what works best for you.
Up to
30% lighter
after the 1st session
Results of saline removal
(fixing others work!)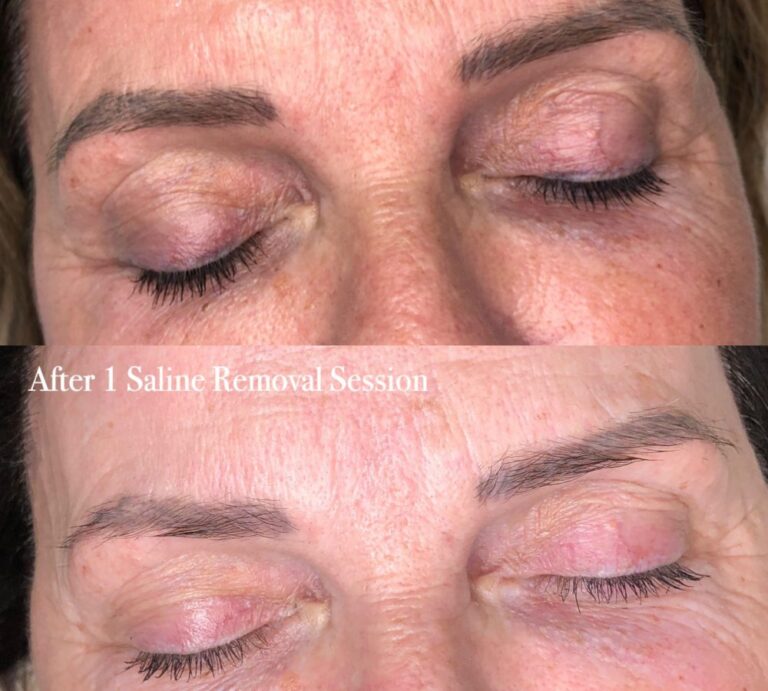 DO NOT PEEL, RUB, PICK, OR SCRATCH AREA
AVOID DIRECT WATER ON EYEBROWS FOR 4 WEEKS
AFTER 24 HOURS ONLY USE RECOMMENDED GENTLE SOAPS AND CLEANERS
AVOID ANY FORMS OF HAIR REMOVAL OR TINTING FOR 2 WEEKS
AVOID DIRECT SUNLIGHT AND TINTING FOR 2 WEEKS
AVOID EXCESSIVE SWEATING (GYM, SAUNA) FOR 1 WEEK
SLEEP ON A CLEAN PILLOW CASE AND ON YOUR BACK FOR 2 WEEKS
NO FACIALS, BOTOX, LASERS OR PEELS FOR 4 WEEKS
AVOID MAKEUP UNTIL BROWS HEAL (APPROX 7-14 DAYS)
DO NOT USE SKIN CARE WITH ACTIVE
INGREDIENTS FOR 2 WEEKS
BE GENTLE AND REMEMBER
TO PAT DRY